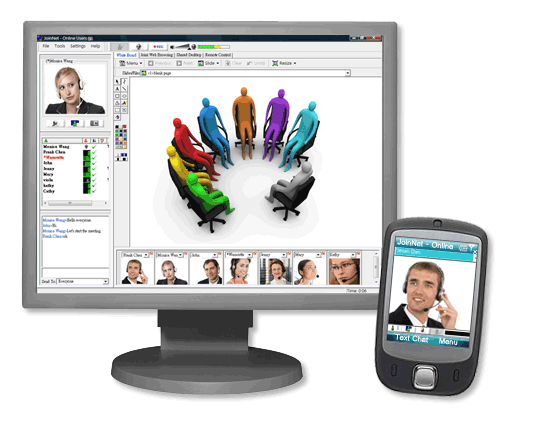 Messaging
Find out how easy it is to build your organization's own messaging system at low cost.
Instantly connect to people via text conversation in group. Even if they're offline, you can send a note or share a recorded message
Centralized and encoded text conversation log file
Share your personal files to an individual or a group. Just drag and drop into the Messenger
Answering-machine-like recorded message checking for easy online playback and forwarding
Meeting
Easy-to-use online meeting system for everyone. Build your organization an optimized collaboration solution at low cost.
Meet and collaborate across the globe
Remote sales presentation and customer support
Online technical support and training
Recorded board meeting and project meeting
Distance education support in rural areas
Collaborative teaching across multiple campuses
Recording
When meetings end, all online discussions become ready-to-share recording files in seconds, perfect for low-cost knowledge sharing and archiving
Make an online presentation and share it to prospects or customers—and check whether they have seen it or not, from the viewer record
Share a recorded meeting or conversation to the people who matter the most
Record and publish online lecture, interview, or panel discussion
View count for every shared recording—you know who have seen it and for how long